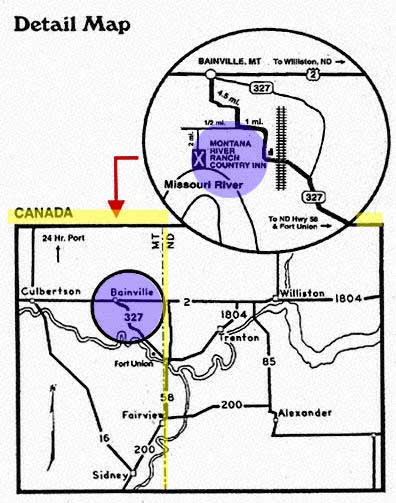 Montana River Ranch is located on our private property at 6507 DH 1 Dr, Bainville, MT 59212.
If flying into Williston, ND or Sidney, MT:
Please contact us with your arrival information and we shall provide transportation to the lodge.
If driving:
From Highway 2
– Take the Clinton Main Street of Bainville to the south end of the street (the road will turn to gravel).
– At the church, turn left and go 4.5 miles until you reach a T in the road.
– Turn right, go west .5 miles.
– Turn at first left onto the private road.
– Drive south 2 miles and the lodge will be on left.
From Sidney, MT (see map)
– Drive to Fairview, MT on Hwy 200.
– One miles past Fairview, turn north (left through the roundabout) at flashing light onto North Dakota Hwy 58.
– Proceed north about nine miles. (You will cross the Missouri River Bridge).
– Within the next one mile (from the bridge) you will turn left onto North Dakota Hwy 1804.
– Continue on his road. Once you pass Fort Union, you will be on Montana Hwy 327.
– Follow the gravel road for 7.8 miles. (Look for white and silver grain bins.)
– Turn left at the grain bins. You will cross railroad tracks and follow the road as it curves right.
– Drive about two miles. You will pass a farmyard and power station on your left. Continue going straight.
– Take the first left you reach onto the private road.
-Drive south for two miles and the lodge will be on left.
^ Back to Top